This year's annual ISTH SSC Meeting was held from 18 to 21 July 2018 in the very beautiful city of Dublin. These meetings are always eagerly awaited in the Thrombosis and Haemostasis community...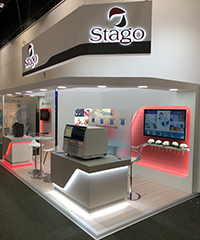 These meetings are always eagerly awaited in the Thrombosis and Haemostasis community, because they bring together experts from all around the globe, who come along to share their knowledge and discuss the latest topics of the day. Over 3000 delegates registered for ISTH SSC 2018, 54% more than for the previous meeting in Montpellier and setting a new record.
Stago organised a Scientific Symposium entitled "The role of the core lab and point-of-care testing in managing bleeding disorders: benefits and challenges", which was a great success proven by the speed with which all 250 places were snapped up. It is a very popular subject and had a marked effect on the Stago booth where the Quantra system was being showcased for the first time.
This point-of-care analyser, specialised in the management of critical bleeding, is based on a brand new technology called sonorheometry. HemoSonics, the company that designed the Quantra, joined the Stago Group in May 2017. To find out more, see www.hemosonics.com/products.
The focus of attention at the Stago booth remained on the ST Genesia, since it is the first of its category to automate Thrombin Generation tests. These hold great promise as future haemostasis laboratory tests.
ISTH meetings are obviously important for Stago. In addition to our commercial presence and our booth, the scientific symposia and debates organised by ISTH are perfectly aligned with our core business: the exploration of haemostasis and thrombosis. Our R&D teams therefore attended the scientific symposia on the latest advances in the field, in addition to presenting posters summarising their own studies. In all, we dispatched 20 of our haemostasis researchers to attend all these presentations.
Twitter is turning out to be a crucial tool for relaying information about this type of conference. Our presence on Twitter (@StagoEvents) contributed greatly to our visibility and to the impressive number of visitors to our booth. Nowadays, our presence on social media to raise our profile in the digital world is a must. Use the hashtag #Stago to find all our tweets, and feel free to subscribe to our LinkedIn page to keep abreast of Stago news worldwide.
The 65th edition, ISTH 2019, will be held in Melbourne, Australia from 06 to 10 July 2019: save the date!