Kyoto (International Congress Center) – Japan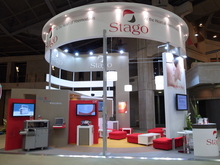 Around 3,500 delegates finally attended the event last July in Kyoto.
The origin of participants shows the international dimension of this exhibition.
A total of 52 exhibitors were also present from the pharmaceutical and diagnostic world.
On Stago booth, a STA-R Evolution® Expert Series and a video of the innovative CAT system (test analyser of Thrombin Generation) were displayed.
It was the opportunity to meet key opinion leaders involved in major Haemostasis clinical studies.

The three Meet Our Experts (MOE) sessions were held with success.

- Monday July 25
Thrombin Generation Standardisation: a step forward applications with added value
Speaker: Peter Giesen – Thrombinoscope (Stago Group)

- Tuesday July 26
Anti P2Y12 drugs: a specific assay for each laboratory
Speaker: Maxime Moulard – BioCytex (Stago Group)
New Anticoagulants: tools for the drug concentration determination
Speaker: François Depasse – Stago
- Thursday July 28
DIC: A step forward with STA®-Liatest® FM and STA®-Liatest® FDP
Speaker: François Depasse – Stago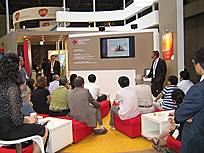 About 200 people attended Stago Satellite Symposium held on Tuesday July 26th. The topic was "Can we predict interventions in Haemostasis and Thrombosis?"
Chairperson: Kenneth Mann (US)

Introductory lecture: "Thrombin generation assays"; Why should we care?
Kenneth Mann (US)

Evaluation of clotting function of acquired haemophilia
Midori Shima (JP)

Predicting and following haemostasis in patients with haemophilia and inhibitors
Claude Negrier (FR)

Laboratory testing of the new oral factor xa inhibitors
Elisabeth Perzborn (DE)

The next scientific & standardization committee of the ISTH will be held in Liverpool on June 27th-30th, 2012.