The 24th edition of the ISTH congress was held in Amsterdam, the Netherlands, from 29 June to 4 July 2013. Thousands of scientific experts, opinion leaders from all over the world, and scientific societies came together to share the latest scientific advances and new clinical applications in Haemostasis.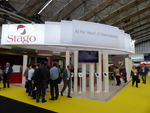 The ISTH is an unmissable event in the field of Haemostasis, with an extensive line-up of educational sessions, poster and oral communications, and state-of-the-art lectures.
A unique forum for interaction
8500 participants from every corner of the globe attended this international congress dedicated to Haemostasis.

Once again, the considerable increase in the number of attendees at the RAI Convention Centre demonstrated the scientific importance of this meeting.
The event had several components:
SSC sessions (scientific subcommittees): the SSC meeting is an opportunity to present the results of clinical or laboratory evaluations, and no fewer than 300 lectures and workshops were delivered over two days.
Posters: more than 2,000 posters were presented. Stago collaborated on numerous studies on a variety of topics, including Thrombin Generation, D-Dimers, and new oral anticoagulants.
Scientific lectures: more than 800 oral presentations and around 50 plenary lectures on the current state of knowledge in a range of subjects were delivered during the congress.
Stago's scientific symposium: this symposium on the inspiring topic of new antithrombotics chaired by Professor Walter Ageno (Varese, Italy) and held on Tuesday 2 July, attracted a full house of over 250 people.
For more information on the programme, click here.
The Stago booth: the new STA Compact Max® took pride of place on an innovatively designed booth reflecting Stago's image. The numerous demonstrations organised on the two display models confirmed the success of this new Haemostasis analyser. The CAT system for analysing Thrombin Generation was also presented and proved very popular with scientists.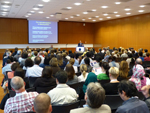 The next ISTH congress will be held in Toronto, Canada, from 20 to 25 June 2015. In the meantime, the next SSC meeting will be held in Milwaukee, Wisconsin, USA, from 23 to 26 June 2014.