This year, the 26th International Society for Thrombosis and Haemostasis (ISTH) Congress took place in Berlin, Germany from July 8th to 13th. This biennial event is one of the biggest events in our field.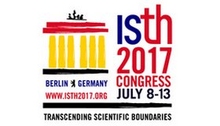 The Berlin 2017 congress attracted more than 9,500 participants, a record high for ISTH congresses. Visitors from over 110 countries travelled to the German capital to attend a vast array of scientific conferences and symposia as well as to learn from the many posters about the research, diagnosis and treatment of bleeding disorders. In total, 3,120 abstracts and 2,366 posters were on display, another record high for the Society, an expert in this field and an unrivalled source of information for the scientific community.
During the ISTH, participants also had the opportunity to meet pharmaceutical laboratories and in-vitro diagnostics companies when visiting the Congress 86 main exhibitors' stands. Among them was Stago, whose stand received several hundred visitors over the course of three days.
New instruments and digital communications were the themes of Stago's presence at ISTH Berlin. Stago displayed two new emblematic Max Generation systems: a STA R Max 2 and a STA Compact Max 3. Following the footsteps of their big brother, they ensure the continuity by providing numerous new functionalities that users have been expecting. And in more specialised areas, the TA 8V, a new generation of thrombo-aggregometer equipped with highly intuitive control, made its debut. Last but not least, the true star of ISTH 2017 was revealed: the ST Genesia, a CE certified Thrombin Generation analyser. Thrombin Generation is becoming highly popular, and Stago comes out on top in these new methodologies. More than 100 people were eager to attend the presentations during the dedicated Product Theater: an unprecedented success for this kind of event.
On top of the instruments displayed at the stand, there was also an interactive touch-screen wall so everyone could follow product presentations, as well as three self-service tablets for people to play with and chance their luck to win prizes from Stago. While cell phones could also be charged on terminals.
Lastly, at a scientific symposium sponsored and presented by Stago, participants were able to learn more about haemostasis in emergency medicine, a topic which attracted more than 300 people.  
Of course, Stago was live-tweeting most events. Find out more about these events on @StagoEvents, an address to remember in order to follow Stago's major events around the world. You can also visit our corporate LinkedIn profile to find out more about Stago's latest news and services all year long.
The ISTH subcommittees will be meeting in Dublin next year, from July 18th to 21st. It will come as no surprise that Stago will be there to share new advances with the haemostasis community.